Facilities Maintenance & Asset Management Services
Facilities maintenance & asset management is an all-encompassing approach. The programs, processes, equipment, facilities, and technology encompassed within the assets of a company are critical for business growth and development. Maintaining and utilizing the assets of a business of any size is crucial to company success. These assets are also essential to efficiency and strategy. Schreier Industrial Services LLCP emphasizes the importance of placing focus on asset management and reliability excellence as a catalyst for unlocking business growth.
Schreier associates have partnered with clients both nationally and globally to improve their strategies and practical effectiveness in asset management. Schreier offers your company the same expert experience, training, and program & process development, for utilizing and maintaining your own business assets.
How Facilities Maintenance & Asset Management Process Works
The first step to creating strategies that support sustainable asset reliability for long-term application is the development of the facilities maintenance programs and processes and their practical implementation. Schreier provides initial assessments of your facilities current asset management/maintenance programs to provide an overall gap-to-perfect analysis. This analysis gives our team the information we need to pinpoint where to most effectively start working towards implementing new asset management strategies and programs or simply to bring new technology to the forefront in an effective manner.
Alongside the client, the Schreier team develops methods for business growth and asset reliability. In the formation of maintenance program development and new systems of practical implementation of those programs, Schreier forms the conceptual foundation for long-term asset reliability.
This foundation allows our team to initiate maintenance process development and the practical application of these processes using the maintenance programs for direction and guidance. The development of maintenance processes provides systems control within each asset area and is a critical step in creating comprehensive asset reliability.
Schreier also works with the company and asset structures of a client to develop implementation procedures for Computerized Maintenance Management Systems (CMMS). The use of advanced CMMS software allows a detailed management, documentation, and report of an asset maintenance program. The data gathered with CMMS provides necessary information on the performance of asset reliability programs and processes.
In addition to the implementation of CMMS programmed to support asset reliability, Schreier also works to effectuate project specific predictive (PdM) technology and offers precision maintenance services. This advanced technology and its practical application can be key to reliability and capacity growth. Schreier provides single-use or long-term installation of several state-of-the-art products.
Even with perfected programs and processes, the continued maintenance and full utilization of company assets wouldn't be possible without a fully-trained, capable staff. The expert Schreier team is fully certified to provide your own team with complete in-house training in the operation, maintenance, and control of all assets.
Last, but not least, Schreier offers experienced interim maintenance manager, planner/scheduler services, and MRO storeroom management services, for companies with short term resource gaps.
For more information about the importance of supporting managed and sustainable asset reliability, contact Schreier Industrial Services LLCP at (218.402.0838) today.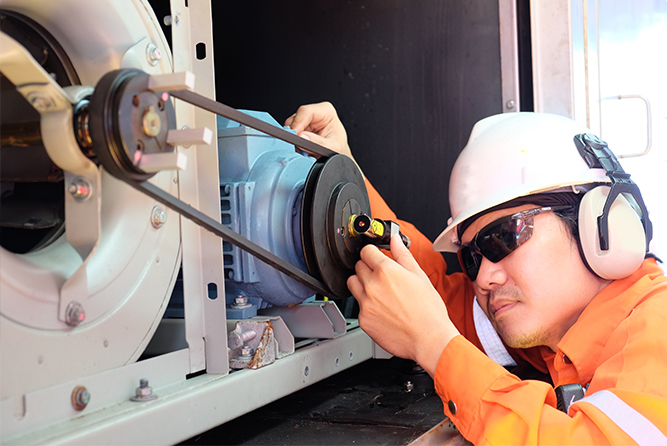 Our Full Range of Capabilities
Schreier's comprehensive facilities maintenance & asset management and reliability excellence services envelop:
Gap-to-Perfect Reliability & Maintenance Analysis.
Maintenance & Reliability Program Development and Implementation
Maintenance & Reliability Process Development and Implementation
Comprehensive Maintenance & Reliability Training Services

Preventive Maintenance Program Excellence
Predictive Maintenance Program Excellence
Precision Maintenance Program Excellence
Asset Risk Management (ARM) Effectiveness
CMMS Implementation Excellence
MRO Storeroom Excellence
Maintenance Management Excellence
Maintenance Supervision Excellence
Maintenance Planning & Scheduling Excellence
Reliability Engineering (RE) Effectiveness
Total Process Reliability (TPR) Effectiveness
Accuracy Controlled Enterprise (ACE 3T) Effectiveness
Asset Management Benchmarking

Computerized Maintenance Management System (CMMS) Implementation
Predictive Technology Implementation & Integration Services
Precision Technology Implementation & Integration Services
Interim Maintenance Manager, Planner/Scheduler, & Store Room Management