Schreier Industrial Services LLCP offers comprehensive project management services from the first stages of engineering to the last stages of system integration. Our team of designers, builders, managers, and integrators are dedicated to providing complete solutions fitted to a corporate, commercial, and industrial setting, but we aim to go above and beyond expectations with our value-added long-term maintenance services. Every piece of equipment in every type of facility, large or small, depends on maintenance for quality, effectiveness, and general reliability. To meet your needs for full system maintenance, Schreier Industrial provides a tried and true approach with advanced equipment and expert hands.
The Schreier approach to comprehensive system maintenance is firmly founded on the principles of predictive maintenance and precision maintenance. While preventive maintenance has played its role on many occasions in global industries, the format of predictive maintenance paired with precision is a much more effective standard for long-term results.
Predictive Maintenance
Predictive maintenance differs from preventive maintenance in both theory and practice. While preventive maintenance is effective as a regularly scheduled treatment cycle based on the estimation and prevention of when a piece of equipment might fail, predictive maintenance examines equipment in real time to diagnose its condition and perform necessary maintenance based on this information.
Our predictive maintenance technicians work to analyze components, assembled equipment, and complete systems. The information they learn about your facilities based on this analysis allows them to understand the working conditions of each and every part and to determine what maintenance operations must be performed. Predictive maintenance analysis and non-damaging testing techniques include:
Visual examination
Digital examination and simulation
Infrared thermography
Vibration analysis
Acoustic monitoring
Oil analysis
Performance analysis
Electrical analysis
Ultrasonic analysis
Analysis of overall collected data
Because predictive maintenance uses such rigorous data collection and analysis methods, it gives our technicians more information about each component than preventive maintenance ever could. This means your facilities undergo less maintenance as a whole because there is no room for unnecessary "just-in-case" fixing. With its lack of information about your facilities, preventive maintenance is more costly and less efficient than well-executed predictive maintenance.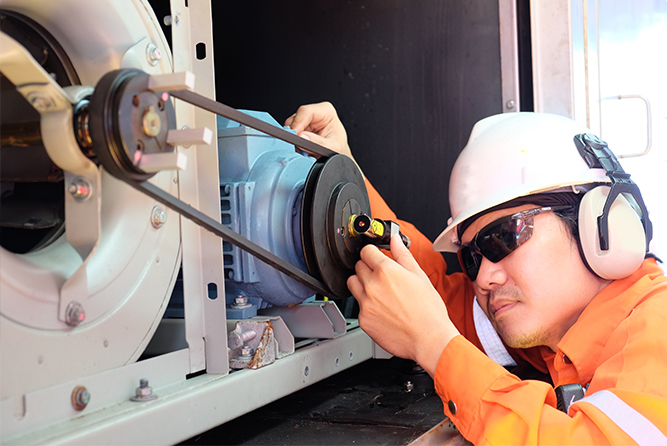 Precision Maintenance
From design to installation, all of our services are based on the ideals of precision in both manufacturing and project management. System maintenance is no exception to this, and so we pair our predictive maintenance practices with those of precision maintenance. The core principle of precision maintenance is that every single analysis, test, data collection, and operation is performed with exacting accuracy. From a single turn of a screw to a full system upgrade, our team of maintenance technicians work to understand and act on the perfectly calculated requirements in every project.
A few of the precision maintenance services we provide include:
Shaft and pully laser alignments
Precision bearing fits and tolerances
Dynamic in place balancing
Natural and resonant frequency verification
If the standards of maintenance were placed on a line graph, our precision-based methods would be continually rising to find and implement the most exact, well-fitted way to keep your facilities running perfectly.
When it comes to maintaining your facilities and supporting every project you undertake, Schreier Industrial Services provides the predictive and precision principles you need. To learn more about our services in system maintenance and comprehensive project management capabilities, contact us at (218) 402-0838 or info@schreierindustrial.com today.